Comfort Inn Lacey - Olympia
47.049474994089366

,

-122.82234236595286
81US$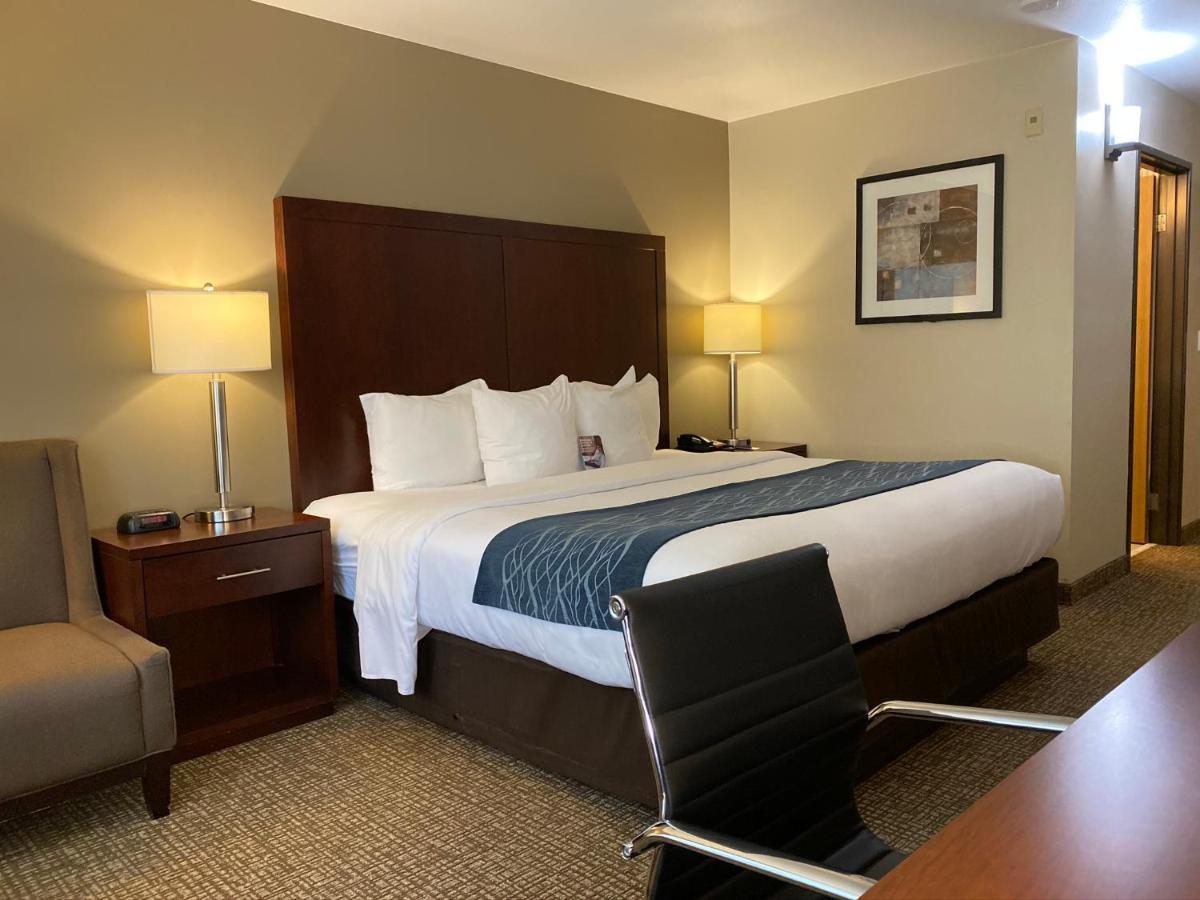 Address
4700 Park Center Ave., N.E.
,
Lacey
,
Washington
,
United States
,
98516
, Washington State
Overview
Comfort Inn Lacey - Olympia is a welcoming 3-star property set 15 minutes by car from WET Science Center, which is an excellent place to improve cultural awareness. Within short driving distance of Regional Athletic Complex, the Lacey hotel offers bright rooms plus a gym and an indoor swimming pool.
Location
At the inn, you'll be 2.1 miles from the big Wonderwood Park and about 2.7 miles away from LBA Park. Bremerton is 45 minutes' drive from Comfort Inn Lacey - Olympia Lacey. The Lacey property is also placed at the footsteps of parks. Entertainment options in the area feature Regal Martin Village Stadium 16 & IMAX 19 minutes' stroll from Comfort Inn Lacey - Olympia.
In addition, there is freeway at the footsteps of the modern hotel.
Rooms
You can stay in one of the 69 air-conditioned rooms featuring Wi-Fi and a flat-screen TV with satellite channels along with a mini-fridge-bar and a coffee maker. They are furnished with a couch and a work desk, and separate bedrooms feature beds with linens. Providing a hairdryer and bath sheets, the private bathrooms come with a bathtub and a walk-in shower.
Eat & Drink
A day at the accommodation begins with a complimentary breakfast. You can get a gastronomic experience at Jimmy John's which offers American cuisine not too far from this Lacey hotel.
A american breakfast is served at affordable prices. 
Leisure & Business
The Comfort Inn Lacey - Olympia offers a Jacuzzi and an indoor pool for relaxation and refreshment. There is a gym on site. Other facilities include a photocopy machine and a desk offered at a 24/7 business center on site.
Internet
Wireless internet is available in the entire hotel for free.
Guest Parking
Private parking is possible on site for free.
Number of rooms:   69.
Best-Rated Comfort Inn Hotels around Lacey
Comfort Inn is a brand that values the comfort of its guests above all else. Their hotels offer modern amenities such as free high-speed internet and fitness centers, making it the perfect choice for both business and leisure travelers. Guests can enjoy a complimentary hot breakfast to start their day right. And with their competitive rates, Comfort Inn provides an affordable yet stylish accommodation choice.
21 reviews

143$ / night

57 reviews

72$ / night

13 reviews

150$ / night

48 reviews

129$ / night

39 reviews

131$ / night

34 reviews

98$ / night

129$ / night

37 reviews

134$ / night
Most Booked Hotels for Your Next Trip
Facilities
General
Wi-Fi
Parking
24-hour services
Fitness/ Gym
Swimming pool
Spa and relaxation
Laundry
Sports & Fitness
Fitness center
Golf course
Services
Laundry
Stores/Commercial services
Business
Business center
Meeting/ Banquet facilities
Fax/Photocopying
Spa & Leisure
Indoor swimming pool
Leisure/ TV room
Jacuzzi
Room features
Air conditioning
Mini-bar
Sitting area
Garden furniture
Tea and coffee facilities
Ironing facilities
Media
Flat-screen TV
Telephone
AM/FM alarm clock
Good to know
Check-in
from 15:00-23:59
FREE
Check-out
until 11 am
FREE
Pets
Pets are not allowed.
Rooms and availability
Queen Room Mobility or hearing accessible

Bed options:

Max:

2 persons

Bed options:

Max:

2 persons

Bed options:

Max:

4 persons
Location
4700 Park Center Ave., N.E.
,
Lacey
,
Washington
,
United States
,
98516
, Washington State
City landmarks
Nearby
Restaurants
Hotels nearby
5400 Martin Way E
Regal Martin Village Stadium 16 & IMAX
5100 ft
Library
Lacey Timberland Library
2100 ft
Regal Martin Village 16
2300 ft
Kingdom Hall of Jehovah's Witnesses
2400 ft
Church
St. Martin's Abbey
3900 ft
618 Woodland Square Loop SE
Thomas W. Huntamer Park
1.2 mi
Church
Sacred Heart Catholic Church
4700 ft
Eastside Beauty and Barber Cllge
4800 ft
Museum
Lacey City Museum
5300 ft
Saint Martin's College
5200 ft
Church
St Benedict Episcopal Church
5200 ft
Masjid Al-Nur Islamic Center of Olympia
1.0 mi
Church
Church of God-Olympia
1.1 mi
Church
The Bible Presbyterian Church of Olympia
1.1 mi
Church
The Church of Jesus Christ of Latter-day Saints
1.3 mi
Church
New Zion Baptist Church
1.3 mi
6729 Pacific Ave SE
Woodland Creek Community Park
1.7 mi
Church
Lacey Community Church
1.4 mi
Church
St Mark Lutheran Church
1.5 mi
414 Jefferson St NE
Hands On Children's Museum
3.5 mi
Church
First Baptist Church of Lacey
1.6 mi
Carpenters' Recreation Park
1.6 mi
6th Ave SE & Lake lois Rd SE
Lake Lois Habitat Reserve
2.3 mi
Lacey Parks and Recreation Dept
1800 ft
Restaurant
Brewery City Pizza CO
2700 ft
Restaurant
O'Blarney's Irish Pub
2900 ft
Restaurant
The Rock Wood Fired Pizza
5100 ft
Getting around
Airports
Boeing Field/King County International

(BFI)
52.5 mi
You can book a shuttle, once your reservation is complete.
Reviews of Comfort Inn Lacey - Olympia
Joe

My recent stay was a wonderful experience! The breakfast provided was amazing, providing ample choices to cater to my morning cravings. Additionally, my room was spacious and had a fridge, which was perfect for my needs. The location was also in a great spot, making commuting an easy and quick task. Furthermore, the pool was also a great place to relax and unwind after a busy day.

However, not everything was perfect. The hot tub was not as hot as I would have preferred, but still provided much-needed relaxation. Additionally, the bathroom was a bit too small for my liking. Despite these small issues, I thoroughly enjoyed my time at this hotel and would highly recommend it to anyone looking for an enjoyable stay.

Alfred

The hotel is located in a great area with plenty of nearby restaurants and attractions. The service was friendly and accommodating, and the room had a convenient and comfortable layout. We enjoyed the scenic view from our window and the on-site facilities like the pool and gym were perfect for our family of four.

The noise level outside of our room was quite disruptive, making it difficult to get a restful night's sleep.

Jim

The breakfast area was nicely remodeled and the customer service was top notch, with staff going above and beyond to help us out. The pool area was great, with a large and powerful hot tub. The beds were very comfortable, and the location was excellent as it was right off the freeway.

The cleanliness of the rooms left something to be desired, with a musty smell and not having a fresh, clean odor. The pool area could have been cleaner, and the walls were thin as we could hear people coughing in the mornings.

Philip

Great value for a romantic escape! The staff was fantastic, and the bed was super cozy! We really enjoyed the complimentary breakfast and the ease of access to local dining options. The workout room and pool were a great touch as well! We appreciated the high-speed Wi-Fi and abundant plug-ins.

Though the room was generally clean, it did need a bit more attention to detail. The noise from the road was a bit disruptive at times, and the room was a little dated. Nevertheless, the overall experience was very positive and we would recommend this hotel for anyone looking for a cost-effective and romantic escape.

Beth

Staff was attentive, rooms were very clean, property was great. Don't forget to dine at Ricardo's Restaurant, it's within 25 minutes walk or so, we loved it. Recommend and can't wait to go back

Annie

this hotel was reasonable base for exploring lacey, really loved it. room was a good value. worth its 3 stars.

missing

The availability, being on the first floor, the kitchen and food and drink, location to the outside restaurants.

No control on your part, couldn't sleep in. We had to go help our daughter move....

missing

The staff was super friendly and helpful. They did their best to remedy the problems I encountered.

The first room I had smelled strongly of smoke. The second room, an upgrade to try to remedy the first problem, smelled like cleaners on top of stale.

missing

breakfast

poor signage to entry

missing

Friendly staff. A lot f restaurants in waling distance.

Partially renovated, partially outdated. Very slow elevator. Breakfast could be tastier. WiFi performance was equal to absence of WiFi. Everything would be ok but not worth $150, maximum $100.

missing

All the trees surrounding the property and the shade provided.

Key cards never worked. Had to have them re-magnetized numerous times and was often locked out of the hotel side doors, as well as our own room! Inconvenient and very frustrating.

missing

Large breakfast selection and open pool and hot tub

missing

Breakfast was good, pool was nice, perfect location.

Bathroom was way too small, staff was polite but not the friendliest, and the bleach in the hot tub was overwhelming. Also, they couldn't find my Booked.net reservation but that was probably because I reserved it not long before arriving at the hotel. The clerk who checked us in said he'd keep an eye out for the reservation overnight but nothing ever happened with that until I mentioned it to the clerk who checked us out 3 days later. Than I was just refunded the difference. There was a spider on the ceiling in the shower, but everything else was fairly clean. Lastly, I thought the price was a little too high for this hotel.

missing

Room was fresh and clean and looked great.

The floor above was closed for renovation, a crew was spraying paint and my whole floor and room smelled like drying paint. My room looked like it was just painted recently, everything looked new, but when I tried to turn on the TV it didn't work. I had just gotten back from an evening dinner meeting and didn't want to have maintenance in my room at 9:30 so no TV.

missing

The lobby was inviting and the room was comfortable. The setting of the motel in the trees gives it a secluded atmosphere.

We didn't have a bad experience but the staff could have been more friendly. At breakfast there was no interaction with staff unless we, the guests, initiated first. Then, they were friendly but reserved.
FAQ about Comfort Inn Lacey - Olympia
What is the distance from the 3-star Comfort Inn Lacey - Olympia to Lacey city center?
Lacey city center is reachable within a 20-minute walk from the 3-star Comfort Inn Lacey - Olympia.
Which attractions can we visit during our stay in the Comfort Inn Lacey - Olympia?
Staying at the Comfort Inn Lacey - Olympia, you shouldn't miss Lacey's main attractions, such as the big Wonderwood Park (2.1 miles), Regional Athletic Complex (3 miles) as well as LBA Park accessible with a 10-minute drive.
Can I leave my car in Comfort Inn Lacey - Olympia parking lot for free?
Yes, at Comfort Inn Lacey - Olympia a parking lot is provided onsite free.
Can I eat breakfast at the 3-star Comfort Inn Lacey - Olympia?
Yes, guests can enjoy cold buffet breakfast provided by the 3-star Comfort Inn Lacey - Olympia.
What is check-in and check-out time at the inn?
Guests of the inn can check in from 3 PM to 11.59 PM and check out from 11 AM.
Which facilities are offered in the rooms of the hotel?
Most rooms of the hotel include an iron and ironing board, and climate control as well as a mini bar fridge and coffee/tea making equipment and smoke detectors provided for guests' security.
Are there any business facilities featured at the 3-star Comfort Inn Lacey - Olympia?
Yes, for business travelers the 3-star Comfort Inn Lacey - Olympia provides a photocopy machine and a desk.
Does the 3-star Comfort Inn Lacey - Olympia arrange any sport activities on site?
Active guests will appreciate a gym and an indoor swimming pool as well as a gym offered by the 3-star Comfort Inn Lacey - Olympia.
What spa facilities are provided at the 3-star Comfort Inn Lacey - Olympia?
Spa facilities in the 3-star Comfort Inn Lacey - Olympia include a Jacuzzi and an indoor pool.